Which keyboard switches do you use/like?

I always hated my Cherry MX 8100's spacebar for requiring more force than other keys. Turns out it has a Cherry MX Grey switch while other keys have Cherry MX brown switches. I'm going to try to replace it with a brown switch, but I don't know if I can install a brown switch's top in this grey switch's base or I have to re-solder the switch.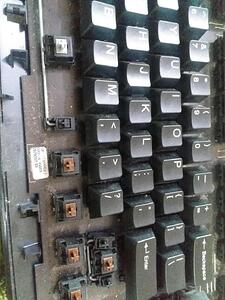 Edit: I replaced the switch and it didn't require re-soldering.

I reckon we need a thread about keyboard switches

I think this thread is enough. Personally, I know little about switches, and can't write more than two paragraphs about switches.
But if you want to have a thread about switches, we can try to discuss it.

About keyboard switches:

Of all the Cherry MX switches I ever used (brown, black, blue, grey), I hate grey switches. I won't ever use grey switches, because you have to stand on the key to press it.

I like brown switches among all the four types I used, but I read that red switches require even lesser force (45 centinewton), so I may like red switches more than brown switches.

I also read that silver speed switches require as much force as red switches, but the actuation point and total travel is less than red keys, so I may like those switches the most. But I have to use all of those switches to decide which one works the best for me.
Which switches do you like/dislike the most?
I've moved our posts to a new thread as I think it could be interesting to a lot of people

For me personally, I thought I would have liked brown switches but I felt they were a bit 'scratchy'/flimsy : /
I am hoping to try Gateron Ink blacks lubed on my next keyboard… so will update this thread when I get them

but I think having used an Apple keyboard for so long I might prefer something like the Ink Blacks - wonder what Apple users usually end up liking when moving to a mechanical keyboard…
Corresponding tweet for this thread:
Share link for this tweet.
---
Related portal:
I want to have some switches which even if I just tap will register. If there is a switch which requires 20 to 30 centinewton actuation force, that's for me, and even if I type on those switches for hours, my wrists still won't get tired. And I won't mind if I'm not able to type beyond 40/50wpm on those switches. I think in the Cherry MX switches, speed silver is nearer to my requirement.
Do you use a wrist rest?
The one thing that worries me most about a mechanical keyboard is that it might hurt or cause RSI. I used to get slight pain when using a PC and a PC keyboard but never experienced any pain with the flatter Mac keyboards…
No, I don't use a wrist rest.

I read somewhere that it depends on many things, including the distance of key travel. If there exist some ideal switches which will actuate with a minor force, just like a tap, and will still go down smoothly if a little more force is applied, instead of giving the fingers a rebound, those switches will be ideal for the fingers and muscles. As I said above, I think among the Cherry switches, Cherry MX Speed Silver are nearer to those ideal switches.
You might find then that you are having to hover your hands over the keys - I would personally find that a chore (I prefer to have my wrists resting on something/the desk). I've seen some people type while hovering and have always wondered whether they get tired.
I also quite like keyboards with fairly extreme angles for the same reason… here's an example:
(Apparently that keyboard fetches a couple of grand on the aftermarket!)
Wow, that looks like a really nice keyboard, but of course it's expensive.


Actually, my elbows rest on the chair's hand rests, and my wrists are sometimes on the keyboard platform tray and sometimes not.

I planned to buy a nice wrist rest after reading your reply. Maybe I'm missing something really great. I will find out.
I used a cloth (muffler) as a wrist rest, and now I realized that without it typing really was a chore. I'll be using it for a day or two, till my thunderclap headache goes away and lets me go to the market.
Thank you @AstonJ!
Nice one DG! Glad I was of some help

It's the thing that concerns me most about mechanical keyboards - that you 'need' to use wrist rests or may find you get RSI or other wrist pain. It's certainly making me appreciate this Apple keyboard a little more!

I guess they'll need different keycaps? (Smaller ones?)
A keyboard which comes with low profile switches will be the answer.


Yes, these switches need different keycaps.
That might explain why they don't seem to be as popular? Think part of the allure of mech keyboards is being able to get custom keycaps - speaking off… apparently Apple have patented designs for configurable keyboards - with each key having an OLED screen. This could be really great! (We should start a thread for it at some point!)
Yes, a thread about that will be great, I'd love to know more about it.
On my keyboard Cherry MX 8100, I replaced stems of brown switches with those of black switches. It was a successful experiment. Now these switches are as soft as brown switches but linear, and I like these switches more.