For Mac enthusiasts, does this monitors fit your high standards?
BenQ is a good monitor brand, it's a shame they do not make any 5/6K 27/32" monitors as they would be good competition for apple/lg.
I've always liked BenQ monitors but agree about the res - why aren't anyone else making displays with 220+PPI? Once you use a Retina display it's hard to go back to anything else imo.
Thought this was an interesting set-up:
He says "You need a monitor that can display as much code as possible", I wonder if he's aware you can do split panes in code editors like #vim and #onivim (tho I think VSCode can as well). Split panes is one of my favourite features of Vim

At my previous work I had one vertical monitor and I really miss it, because it gives you a lot visibility into the code without the need to scroll, and this help so much to help understanding the code flow in that complicated logic or legacy code.
I think you can do that in all modern editors. Emacs, Vim, Atom, Sublime Text, VSCode, Coda, RubyMine etc.
Here's another thing to consider - viewing distance:
Resting point of accommodation (where your eyes don't use muscle tension to focus) is about 30" away, resting point of vergence is 40" (where your eyes don't see 'two') - anything before those distances causes eye strain.
Lots of people buying OLED TVs (LG's 48" seems popular) as a monitor - especially those doing video work.
I want to get a PS5 so I am considering one of these then putting my desk at an angle to see what it's like as a monitor or second monitor.
Might be worth considering instead of those large curved monitors Ohm…
I don't believe in mixing work with fun, so I'll be having two distinct screens, one for each.
I don't really think a large screen for coding will help me, like I don't think I'll work better on an 65" screen than I do on a 13". Screen real estate isn't really the problem here.
I get the appeal of having a large screen for watching movies and playing games, especially console games. I use my Switch more often in the stand than handheld mode.
---
I'm currently waiting on my new TV to arrive (bought a Samsung QLED QE55Q90 55") so I might be able to try it out anyway with the old TV (a 42" screen)
Aside the screen size, be it 65" or any other one, just try to use any monitor that gives you more real estate, like a 4k one that doesn't make you to feel the need to use scaling for reading the text, and then tell us if is not worth using that bigger real estate. The size of the 4k monitor will depend on the distance you sit from it, and how good your eyes are.
For me it makes a huge difference to be able to:
See much more lines of code without the need to scroll
Not having to switch back and forth between editor, browser and terminal. Doing it breaks my concentration, thus my dev flow becomes slower.
I have currently have a LG UltraFine 27'' 5K (5120 x 2880) monitor. I tend to have two columns of code or two columns of terminals.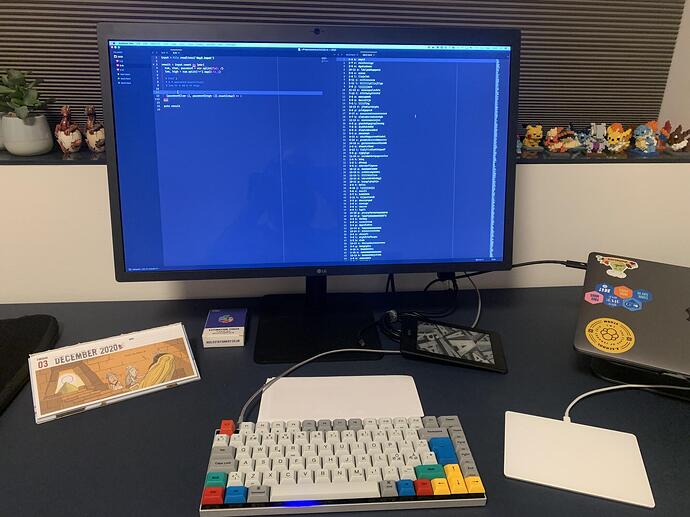 What keyboard is that?

Pokémon

It's a Vortex Race 3.
---
Yeah, the Pokémons are my rubber ducks (although, I do also have rubber ducks)

Are you running at the default res Ohm?
Does Sublime let you split horizontally as well as vertically? When I'm working on a large project (on an external monitor) I often have 4+ panes.
How about you @Exadra37, have you tried multiple split panes?
That TV was in HDTVTest's top 3 for the PS5:
They are all great TVs, I'm leaning towards the LG (because it's an OLED).
Connect your Mac when you get it and let us know what it's like

I work always with multiple split panes, 2 or 4.
In this exact moment on 1920x1080 monitor:
Some days ago trying my Samsung 42" 4k TV:
After this experience with the 4K real estate the only thing I still need to decide on is the size of monitor I will buy

What size is that Samsung? If you have the room, I would go bigger and OLED - the 48" LG is a good bet I reckon - but only if you can sit further away from it.
I am tempted to get the 55" (the one in the video I posted above) as a second display

Thats a sweet looking kb, is it programmable? How do you like it?
It's alright. If I had to change, I'd lose the F-key row, as well as Home, PgUp, PgDn, End.
It is programmable, but I don't use that feature on it.
Also, AFAIR there was a hack to make it work with MacOS (got the keyboard almost 2 years ago, and have used it with the same laptop ever since)