Put the data that runs your business to work for you. Embed data governance into your practice, and build processes to data during and after deployment.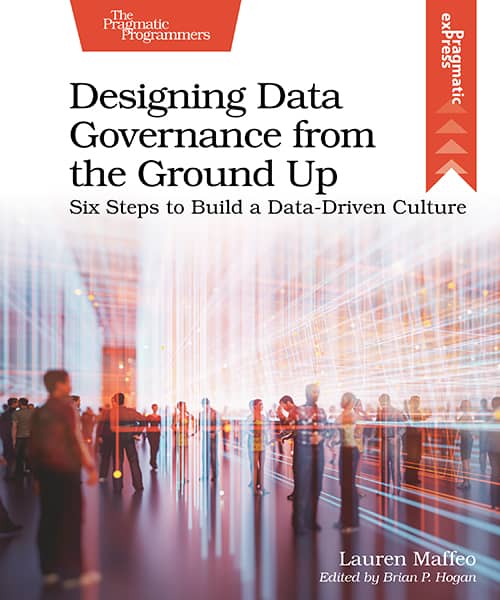 edited by Brian P. Hogan @bphogan
Businesses own more data than ever before, but it's of no value if you don't know how to use it. Data governance manages the people, processes, and strategy needed for deploying data projects to production. But doing it well is far from easy: Less than one fourth of business leaders say their organizations are data driven. In Designing Data Governance from the Ground Up, you'll build a cross-functional strategy to create roadmaps and stewardship for data-focused projects, embed data governance into your engineering practice, and put processes in place to monitor data after deployment.
In the last decade, the amount of data people produced grew 3,000 percent. Most organizations lack the strategy to clean, collect, organize, and automate data for production-ready projects. Without effective data governance, most businesses will keep failing to gain value from the mountain of data that's available to them.
There's a plethora of content intended to help DataOps and DevOps teams reach production, but 90 percent of projects trained with big data fail to reach production because they lack governance.
This book shares six steps you can take to build a data governance strategy from scratch. You'll find a data framework, pull together a team of data stewards, build a data governance team, define your roadmap, weave data governance into your development process, and monitor your data in production
Whether you're a chief data officer or individual contributor, this book will show you how to manage up, get the buy-in you need to build data governance, find the right colleagues to co-create data governance, and keep them engaged for the long haul.
---
Lauren is an award-winning designer and analyst who currently works as a service designer at Steampunk, a human-centered design firm serving the federal government. She is also a founding editor of Springer's AI and Ethics journal and an area editor for Data and Policy, an open access journal with Cambridge University Press. Lauren has written for Harvard Data Science Review, Financial Times, and The Guardian, among other publications. Lauren is a fellow of the Royal Society of Arts, a member of the Association for Computing Machinery's Distinguished Speakers Program, and a member of the International Academy of Digital Arts and Sciences, where she helps judge the Webby Awards.
---
Don't forget you can get 35% off with your Devtalk discount! Just use the coupon code "devtalk.com" at checkout