Corresponding tweet for this thread:
Share link for this tweet.
I missed it …but checking now it looks like the highlights are: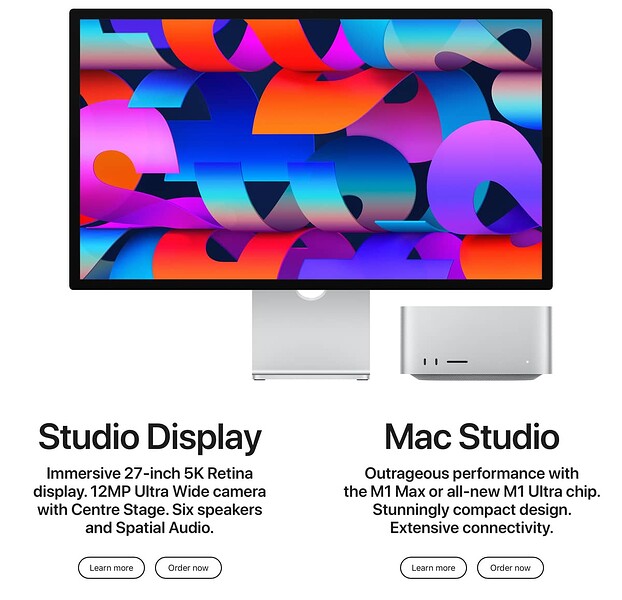 £4K for the M1 Ultra Mac 'mini'/studio

or £1,799 for the display!
I'll have to watch the keynote to see whether they're worth it

New M1 Ultra chip, green iPhones, A15 chip, iPad air with 5G support
Uhhh, I though 4K references screen size, not price? Lol.
Also, why are they advertising unified memory, that is soooo much slower than distinct memory… >.>
Just caught up - Mac Studio looks nice… but they said it's modular, how exactly? Can you upgrade the ram or GPU whenever you want? Not sure why they're calling it modular!!
Studio Display looks nice… but it's 27". Most people wanted a more affordable 32" not a tarted up 27"!
Having said that, both the studio and the display di look nice

Exactly!
I got a 34" curved and… I'd kill to get a good 27", I can't bear my 34" anymore.
Well, I think it looks really bad… I mean… what's wrong? The MacPro with the cheese grater look was so nice and gorgeous, this one looks like a toaster.
I do not miss Jony Ive but please stop making metal blocks.
The next step is the iMac Pro, I hope it will be decent-looking.
In fact, the very good news is the Ultra chip. That's insane. If they can compound chips this way there's no limit.
Typical Marketing crap - its probably geared towards being able to connect multiple devices via cables and it becomes "modular"…
Get a LG5K if you don't mind glossy - screen wise I expect they are the same and the LG5K should be much cheaper now.
The nano-texture of the new display is tempting, but I am hoping they bring out a 32" version that doesn't cost £5K!
Yeah… tho they must have known they would get grilled for saying it was modular

I am interested in getting my first tablet, but iPad Air seems to powerful to me…
What do you need one for Adam?
Even browsing some websites on my M1 Pro can result in slow-down… so there's definitely room for more imo.
I use kindle to read for books for years.
And I find that is quite inconvenient to read the technical books on kindle.
MacBook is fine but still not quite portable while commuting.
In that case I would recommend the larger iPad Pro - but honestly any tablet with a browser would be fine and if possible, always get books that are e-reader-friendly (like the Ecto book) as reading on the Kindle is by far the best in terms of health (no lcd blue lights, no refresh rates/flashing, etc).