Project retrospectives help teams examine what went right and what went wrong on a project. But traditionally, retrospectives (also known as "post-mortems") are only held at the end of the project—too late to help. You need agile retrospectives that are iterative and incremental. You need to accurately find and fix problems to help the team today.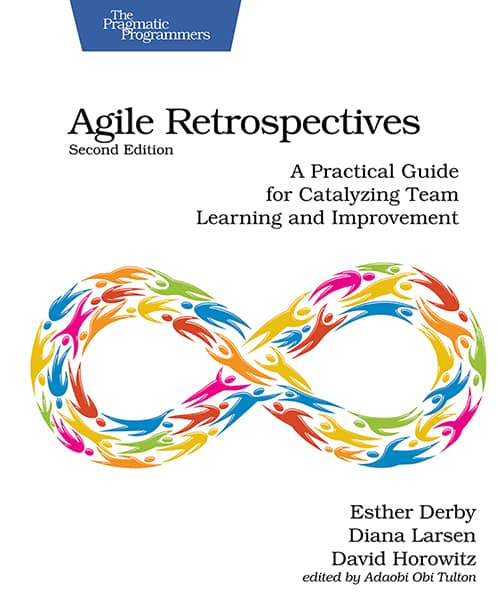 Esther Derby, Diana Larsen, David Horowitz
edited by Adaobi Obi Tulton @aotulton
In an uncertain and complex world, learning is more important than ever before. In fact, it can be a competitive advantage. Teams and organizations that learn rapidly deliver greater customer value faster and more reliably. Furthermore, those teams are more engaged, more productive, and more satisfied. The most effective way to enable teams to learn is by holding regular retrospectives. Unfortunately, many teams only get shallow results from their retrospectives. This book is filled with practical advice, techniques, and real-life examples that will take retrospectives to the next level–whether your team is co-located, hybrid, or remote. This book will help team leads, scrum masters, and coaches engage their teams to learn, improve, and deliver greater results.
For nearly two decades, scrum masters, team leads, and coaches have relied on the first edition of Agile Retrospectives as an essential resource to facilitate better retrospectives.
This edition builds on recent research, reflects the authors' experiences over two decades, and shares wisdom gleaned from the global retrospective community. Find practical advice to level up retrospective skills. Address the challenges of remote and hybrid retrospectives head on. Take advantage of expanded guidance on designing and facilitating retrospectives–based on the questions and concerns of practitioners worldwide. Gain insight into choosing a broad or narrow focus for retrospectives. Explore how to use both objective and subjective data to enable more effective conversations. Learn how to make decisions that stick.
Understand the importance of psychological safety and how to foster it in retrospectives. Elevate issues and engage managers in systemic change.
Learn from many real-life stories that demonstrate how our advice has impacted retrospectives at organizations around the globe. Finally, find a set of recommended flows that reveal the authors' thought process in designing retrospectives for scenarios teams faced in real life.
---
Esther Derby draws on four decades of experience leading, observing, and living organizational change. She works with a broad array of organizations. Based on experience and research, her approach blends attention to humans and deep knowledge of complex adaptive systems. Through her writing, workshops and consulting, she has influenced a generation of leaders in the software industry.
Diana Larsen contributes to the foundations and extensions of agile thought as consultant, mentor, and speaker. She has co-authored six books, including LiftOff: Start and Sustain Successful Agile Teams, also published by Pragmatic Bookshelf. Her theme of learning and improvement is central to the practice of cultivating team agility.
David Horowitz is the co-founder and CEO of Retrium, the world's leading platform for agile retrospectives that is used by thousands of companies across the world. Prior to co-founding Retrium, David spent a decade at The World Bank and International Finance Corporation as a software developer turned agile coach.
---
Don't forget you can get 35% off with your Devtalk discount! Just use the coupon code "devtalk.com" at checkout