Haha nice! Are you running it at the default res and with any other monitors?
Nope. Just the two monitors. I can't concentrate on more than that

I barely use the screen on the laptop for anything but Slack.
I'm a little bit late into the discussion, I was busy with recording, but at least I will answer your question.
I started with "normal" font sizes (for the average user) and 2 monitors, but as I started to build more stuff related to spreadsheets, charts, etc - 2 monitors were a little bit like constantly chasing the window that I want from underneath other ones.
I ended up with 4 screens and now - espacially when screencasting - they are really useful. I need to admit that this massive font size was set up to record videos(and make them viewable on small phones) but then as I recently focus solely on screencasting, I got used to it and it will probably stay like that

Thanks for the info Kamil! What size monitors are they?
Sounds like you might like the Spaces feature on macOS

does Linux have anything like it?
I have it set up to my top left 'hot corner', so that when the mouse pointer goes into the top left corner of the screen it shows all spaces (or what Apple calls 'Mission Control').
Here's screen grab of it in action: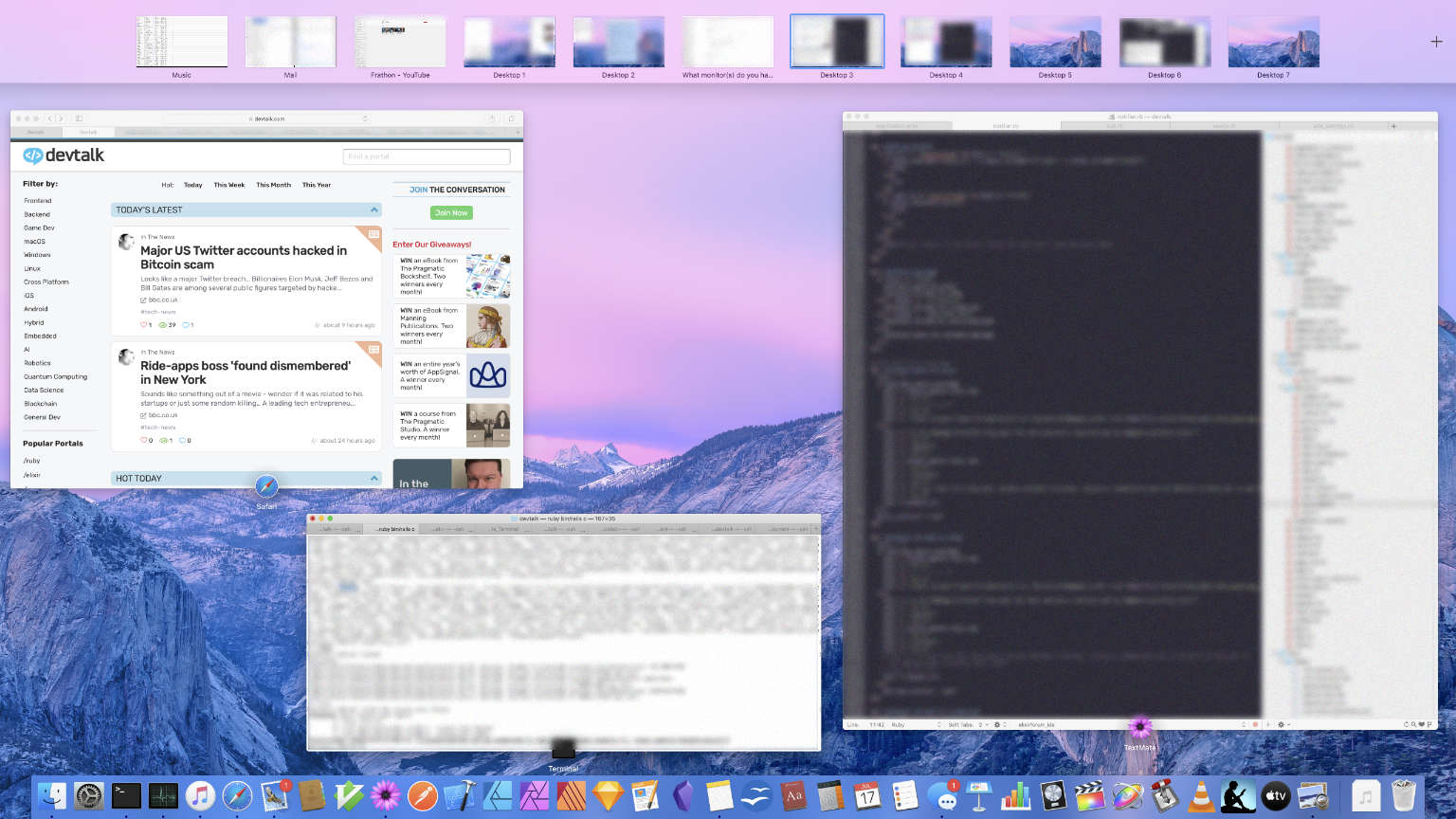 I always have my spaces with Apple Music to the far left, then Mail, then a web browser. Then various desktops for whatever I'm working on. It's really handy if you need to work on multiple projects or items at the same time

2 bottom ones are https://www.benq.com/en-us/monitor/stylish/gl2580h.html
2 top ones are my old BenQ monitors BenQ BL2400 (I bought them used 5 years ago - they need to be at least 10 years old - they look like 24")
Spaces looks like multi desktop feature which comes with a lot of Linux Window Managers. I'm currently using i3 and it allows for it.
I used it from time to time but I need to admit that when you are "in the zone" and you though that whatever you are looking for is on 3rd virtual desktop and it's not there - you just get out of the zone immediately - it works like that or I have an attention span of the gold fish

Haha I know what you mean… and what I tend to do is always follow the same format - hence why Apple Music, Mail and Safar are always in that order. When working on a big project I used to have Vim in one space (with multiple split windows/panes) then Safari to the right and several Terminal windows to the left. However with this new monitor I find letting the code editor occupy half the screen, and then a browser two thirds of the left, with terminal (and tabs) with a third works pretty well.
On smaller screens (like laptop screens) Spaces is invaluable as you can easily 4 finger swipe left/right etc.
Ah cool, I was guessing they were 21" - think the large text made them look smaller.
@Exadra37 was interested in BenQs so he might want to pick your brains about yours too!
I just bought MSI G27C4. It's built for gaming purpose but I use it for programming. It has all cool features which you want in a gaming monitor. So if I decided to play some games later I don't wanted to buy another monitor for that.
https://www.msi.com/Monitor/Optix-G27C4/Specification
I'm on two HP Z27 displays. 2*4K
I like them fine. Figuring out what is and isn't possible with USB-C SS, Thunderbolt, display ports, USB hubs and stuff is weird. Extra weird with a Mac I think. Fun thing, sound out, but no sound in. Probably because that works with either HDMI or USB/ThB.
Anyway, they're fine.
That looks really nice Paulo!!!
Have you tried the Retina versions of our themes? Should look pretty neat (depending on how far you are sitting)

Yes I had tried in the past and now again, but don't work well on my machine in dark mode, and light mode I don't notice a difference.
Dell 43 Ultra HD 4K Multi Client Monitor - P4317Q 43"
I never liked multiple monitors, but I love screen real estate. 4K without having to scale text etc is pretty cool. I needed to put another leg under the back middle of my desk to take the weight though.
I've always liked Dell monitors - what res are you using it in @mindok and how far away do you sit from it?
Hi @AstonJ, I run it at 3840 x 2160, and sit about 600-900mm away from it.
When I want to relax reading a PDF or whatever, I can blow it up to 300% and read it from the other side of the office!
Ah nice! That's what I like most about large monitors - you don't have to sit so close to them (so better for your eyes). I used to have my 32" Dell pushed right at the back of my desk, so about 90cm away (it was half off my desk and leaning against the wall). My current monitor is about 60cm away (though I don't mind it so much as the text is incredibly crisp, but still would prefer a 6K 32" pushed slightly further back).
I used to do similar and change the hue of the screen to make it warmer - it's just a bit nicer for reading… try it

Funny you should say that - I have it set warm all the time, until I went into display settings to check the resolution for you and Windows set it to icy cold without me touching anything. Windows - the surprise gifts just keep on coming.
I'm going to test a spare 4k monitor I have with Pop!_OS again to see how fractional scaling works. Last time I tried there wasn't enough consistency between applications to make 4k a daily driver monitor for me.
Right now I am using 2 Viotek 27" 1440p 140hz gaming monitors as they were cheap but I much prefer a single large monitor.
Let us know how you get on