Sorry, it is now working

Sorry about that everybody! The "devtalk.com" discount code can now be applied to this book.
On the plus side, the Devtalk community gets to hear about all our new books before we announce them publicly anywhere else. On the downside, the Devtalk community (and, in this case, the ElixirForum community) get to deal with all our bugs before anybody else, too.

Hope you enjoy the book and please be sure to share your feedback with @svilen!
@mafinar yes, that appears to be a typo. Nice catch, thanks!
Awesome.
I'm gonna buy it the next month. I have a lot of books that I haven't read yet

.
Congrats @svilen
Thanks @AstonJ!
I wasn't involved in the design process actually, so all credit goes to the designers/illustrators who worked on this

I agree, the cover looks great!
Thanks @bloq! No worries, I know the feeling of having a long reading list…
Me three on the long reading list. @AstonJ since there seems to be quite a bit of interest in this book, maybe it is a good book club candidate for down the road.
Yeah, same here. I really want to buy it but I have at least 4 other books that I also want to read and still can't allocate the time (even though I do have it).
Ah, props to whoever choose it then

but it's cool you got it on your book - it's a great cover

Definitely! I keep meaning to post a 'Which Book Club would you like to see next thread' just haven't got around to it… will do it soon

Looks to be another awesome Elixir book

Well. I'm ready to learn more Elixir stuff, I already bought the book

.
Keep doing stuff @svilen
Just saw it being content complete. Looks like it's time to start a book club on this one.
@svilen What's the status of the finalization of the book? I decided to buy it but would like it be officially at its next version before purchasing a physical copy.
Furthermore, if I buy it electronically (which I also want to do), am I entitled to receiving corrections and next versions afterwards?
The print book is due out in August. In the ebook version we are at, B4.0 which was released May 5.
When you buy the ebook version, you get all current version updates. If the author does a major update and we release it with "Second Edition" on the cover, that is a whole new book (not included in ebook updates). Is that what you were wondering?
Congratulations, Svilen Gospodinov (@svilen). Concurrent Data Processing in Elixir is #1 New Release in Parallel Computer Programming. It's a top bestseller in 3 other categories we've found. We are superproud of @svilen and the effort and love that went in his book.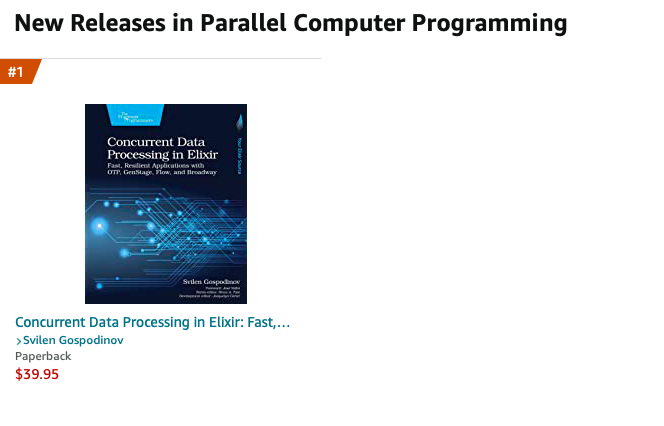 Already bought it in ePub but love the printed edition, after moving, you'll be mine (insert pic of Gollum)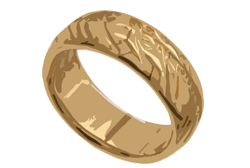 Love the Gollum comment and glad you are enjoying Svilen's book. Thanks for reading!
On my list for next month! After I learn some basics from Pragmatic Studio's Course!